Hey, guys! Today I gonna share some combos regarding the new booster, Galactic Overlord(GAOV) that had officially release on 17th February 2012. Previously, I have reveal the real ban list and I knew this ban list style is a bit differ from previous ban list. Lot of the players complaining the forbid of Trishula, Glow-Up Bulb and Spore while not hitting any of the current tier deck yet.
Anyway, there must be reasons and solutions for solving the March 2012 ban list problem and Konami will not simply earning your money without doing anything. I expected that Konami will introduce some new techniques to against these META decks in the upcoming booster or structure deck. Besides that, I think that Reborn Tengu will be reprinted in the OCG's tournament pack.
Konami banning Glow-Up Bulb and Spore these two tuner but not limiting them because limiting them does not have any effect due to they can be special summon by the Lonefire Blossom and both tuners are too splashable in synchro-based deck. The reason of T.G. Striker and Agent of Mystery, Earth are limit because TG Agent Fairy have splashing their deck with these two cards while control style deck use T.G. Striker as one of the staple in their deck and most important reason is it is a Tuner monster.
Okay, let's back to my main topic. This booster have introduce few archetype of cards such as the Hieroglyph while supporting the existing themes such as Inzektor, Evo, Photon and Gagaga. I think most of the players already knew how great the Hieroglyph engine is and I will not discuss it now. I personally like to recommend several GAOV cards that can be used in the deck.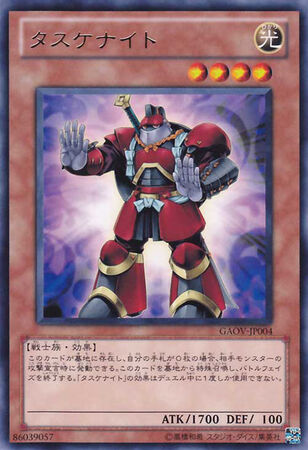 Tasuke Knight
[Warrior/Effect monster/Effect]
When an opponent's monster declares an attack, if this card is in your Graveyard and you have no cards in your hand: You can Special Summon this card from your Graveyard and end the Battle Phase. Each player can only use the effect of "Tasuke Knight" once per Duel.
ATK: 1700 DEF: 100
First of all, I recommended Tasuke Knight and it can be used in handless deck, Infernity. This card just works like a one-time Battle Fader and it can be used as synchro or Xyz material. Thus you can prevent your monster especially Infernity Necromancer / Dark Grepher from battle destroy while allowing you to synchro or Xyz summon. It is just like the mixture of Infernity Avenger and Battle Fader.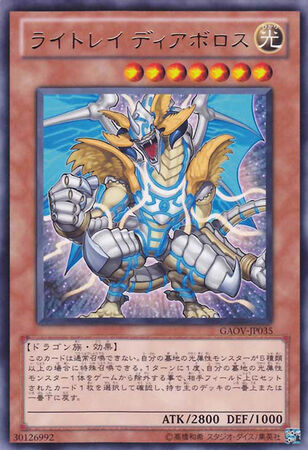 Lightray Diabolos
[Dragon/Effect monster/Effect]
Cannot be Normal Summoned or Set. Must be Special Summoned (from your hand) by having 5 or more LIGHT monsters with different names in your Graveyard, and cannot be Special Summoned by other ways. Once per turn: You can banish 1 LIGHT monster from your Graveyard to target 1 Set card your opponent controls; reveal that target, and return it to either the top or bottom of the Deck.
ATK: 2800 DEF: 1000
The next card that I gonna introduce is Lightray Diabolos that can be used in the Lightsworn deck. It can work as an additional beat stick for Lightsworn and to bait the opponent's Bottomless Trap Hole, Solemn Warning or Torrential Tribute while helps to clear field so that Judgment Dragon can special summon safely. Lightsworn players can try to merge a piece of it into the Lightsworn deck especially after the applied of March 2012 ban list.
Thunderclap Knight - Gaia Dragoon
[Dragon/Xyz monster/Effect]
2 Level 7 monsters
You can also Xyz Summon this card by using 1 face-up Rank 5 or 6 Xyz Monster you control as the Xyz Material. (Xyz Materials attached to that monster also become Xyz Materials of this card.) If this card attacks a Defense Position monster, inflict piercing Battle Damage to your opponent.
ATK: 2600 DEF: 2100
The third card that I wanna recommend is Thunderclap Knight - Gaia Dragoon and this card is one of the Xyz monster that allow you to Xyz summon by just using either Rank 5 or 6 Xyz monster. Apart from that, its effect doesn't required any Xyz material to activate and this is the first Xyz effect monster that doesn't required Xyz material to gain its effect. You can use Mind Control / Enemy Controller / Mark of the Rose to snatch opponent's Rank 5 or 6 Xyz monster to Xyz summon it or use your Rank 5 or 6 Xyz monster that no longer have any Xyz material attached to it as its Xyz material.
Dragon Devil - Queen Dragoon
[Dragon/Xyz monster/Effect]
2 Level 4 monsters
Dragon-Type monsters, except "Dragon Devil - Queen Dragoon", cannot be destroyed by battle. Once per turn: You can detach 1 Xyz Material from this card to target 1 Level 5 or higher Dragon-Type monster in your Graveyard; Special Summon it. Its effects are negated and it cannot attack this turn.
ATK: 2200 DEF: 1200
For the fourth card, I suggest Queen Dragun / Dragon Devil - Queen Dragoon(Japanese translation) to Chaos Dragon players. It can helps to increase the number of Dark attribute monster in the graveyard while helps in reviving your level 5 or above dragon in your graveyard to use as the cost for special summon Red-Eyes Darkness Metal Dragon from your hand or use it as the synchro or Xyz material. You can Xyz summon it by using your Eclipse Wyvern and any other level 4 monster and then you can detached Eclipse Wyvern to banish a level 7 or above Dragon's monster from your deck.
Night Shot
[Normal Spell]
Target 1 set spell/trap card on your opponent controls; destroy that target. Your opponent cannot activate that target in response to this card's activation
The fifth card that I gonna recommend is Night Shot which is the substitution card for Mystical Space Typhoon to against those Chain Burn deck. With this card, you no longer will afraid opponent for chaining their cards and you will have greater chances to overcome your opponent strategy. I personally think that this card quite suitable to the decks that required to clear the opponent set cards in order to OTK opponent.
Dimension Slide
[Normal Trap]
When a monster is Special Summoned to your side of the field: Target 1 face-up monster your opponent controls; banish that target. If the Special Summon was an Xyz Summon, you can activate this card during the turn it was Set.
Last but not least, Dimension Slide is the new version of Bottomless Trap Hole that allow you to banish your opponent face-up monster on the field. With this card, you can banish your opponent's Stardust Dragon / Gatchi Gatchi Gantetsu / Wind-Up Zenmaines / any monster card that can prevent destroy. You can combo this card with the T.G. Warwolf to against Wind-Up Carrier Zenmaity, Rabbit or any special summon-based deck.
Okay, that's all I gonna share with you guys today! Thanks for spending your time for this post and wish you guys have a blast day. Please stay tuned with my next post.